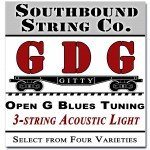 The Twelve-Bar Blues is an important chord progression that has served as the basic melody for thousands of Rock and Blues songs over the years.
When considering where to begin with learning the basics for blues on your Cigar Box Guitar, one of the best places to start is learning this chord progression.
It can even be adapted for other open-chord tunings!
Click here for a free PDF Tab download and a bonus how-to play companion video by Ben "Gitty" Baker.