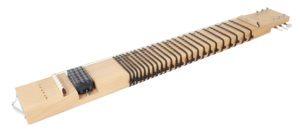 Lap steels have seen a bit of a new life among Cigar Box Guitar and homemade music enthusiasts. C. B. Gitty has put out an affordable, easy-to-build kit that can be built in an afternoon, out of a scrap piece of 2×4 timber!
But what if you have already built one of these fine instruments from the kit above, and are looking for a little bit more of a challenge?
Sent in to us in 2016 by "Hubcap John" Hayward, these plans were originally printed in Practical Wireless Magazine, a UK-based Amateur Radio Magazine back in 1965.
These schematics lay out the ground work from dimensions to wiring diagrams, that you can follow to build an electric Hawaiian-Style Lap Steel Guitar!
Click the image below to download these FREE PDF Plans!