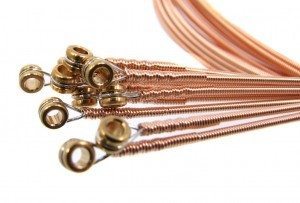 Not as widely used as some of the other open "power chord" 1-5-1 tunings, the A E A tuning is still a good one to try out and have in your toolbag. A full step higher than the more widely-seen Open G tuning, the high A note can be a bit too trebly for some people, but the lower tuning with the unwound .016″ as the middle A puts out a really nice sound.
This article gives you the exact strings to use to achieve this tuning on a cigar box guitar (or other instrument) that has a scale length in the range of 24.5 to 25.5 inches.
First, a disclaimer: these recommendations are made based on our experimentation in the C. B. Gitty shops, and it is what we have found to work. Other people may have different opinions, and they are welcome to them. I'm not trying to set any standards or lay down any laws – I am just going to tell you what works for us.
Check out the various string sets available over at www.CBGitty.com!
Continue reading ""Open A" AEA Tuning on your Cigar Box Guitar: 4 Methods, with String Sizes & Sound Clips"