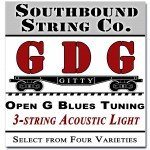 Friday is finally here and the weekend is only a short work day away. Why not celebrate by starting a new song to practice over the weekend?
Soutbound Strings brings tablature for "Hallelujah" by Leonard Cohen arranged for a 3-string, Open G (GDG) Cigar Box Guitar. A timeless and powerful classic, it's hard not to close your eyes and get lost in the music.
Click here for the FREE PDF with a bonus instructional video!
Related Terms: