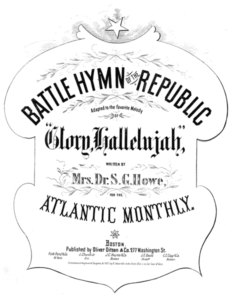 "Battle Hymn of the Republic" or "Mine Eyes Have Seen the Glory" was written by Julia Ward Howe during the first year of the American Civil War. Like many Folk songs of the time, the music was appropriated from another classic folk song, "John Brown's Body".
The tune went on to become one of the most iconic Patriotic songs in the American Lexicon and even abroad.
Presented here are two versions of this classic American hymn in tablature for Open G – GDG Cigar Box Guitars.
The first one is the basic melody. The second offers chords that will help to enhance the melody.
This tab can also be adapted to any of the other 1-5-1 tunings.
Basic Melody
Melody with Chords
Has this song helped you? Are there any other classic hymns you would like to see? Let us know in the comments below!
Related Terms: