"Home on the Range" started out as a poem in 1872, penned by Dr. Brewster. M. Higley.
It wasn't until 1933 when Bing Crosby recorded a new version of the American West's unofficial anthem, that the song's popularity was rejuvenated and it was cemented in the American Songbook.
Below you can find the free PDF tablature for the song's fairly straightforward melody.
It is a great one to break out when picking alone on the porch or fireside sessions!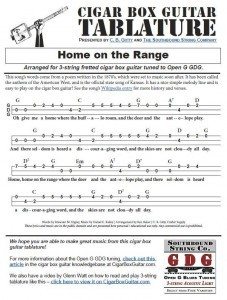 Click here for the permanent knowledge base entry

Want to see a particular song tabbed out? Let us know in the comments!
Related Terms: