Our newest entry into our library of free tablature is the melody for the song Carrickfergus, recorded as "The Kerry Boatman" by Dominic Behan in 1965, though the origins go back even further to the 18th century.
Click the image below for the Knowledge Base entry and the FREE PDF download!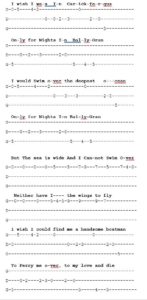 Want to see a song tabbed out? Let us know in the comments below!
Related Terms: