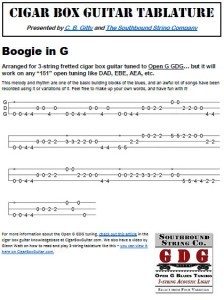 Today's FREE PDF download is a steady walk up and down a scale that has formed the basis for a large number of blues songs over the years.
Originally tabbed out for Cigar Box Guitars tuned to Open G, this riff will also work for any of the other 1-5-1 tunings!
The best part about scales like these is that you won't need to go past the 5th fret to play an entire song!
Click here for the permanent knowledge base entry as well as a how-to play video!
Is there a song or riff that you want to see tabbed out? Let us know in the comments below!