Use this link to download the high-resolution PDF version: Yellow Submarine Canjo Tab PDF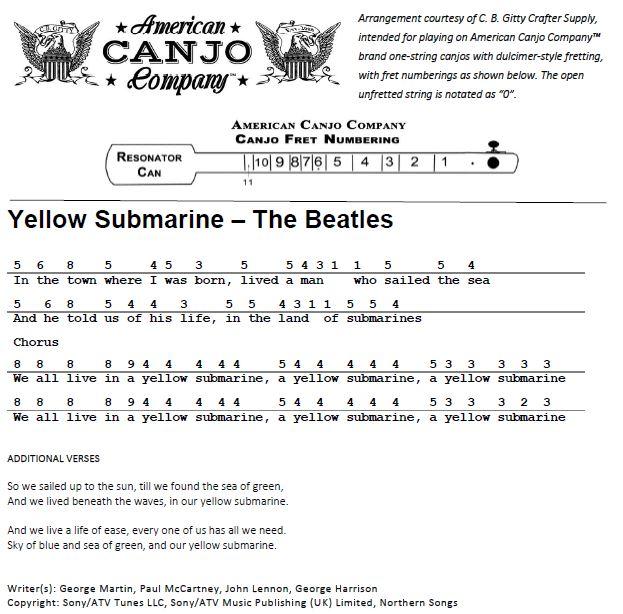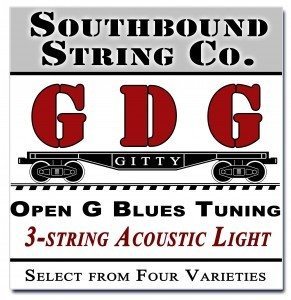 The tablature in the PDF link below will show you exactly how to play the melody and chords for the popular song Yellow Submarine, as performed by The Beatles.
All of the cigar box guitar tablature here on CigarBoxGuitar.com is presented by The Southbound String Company, the only strings specifically chosen and voiced for cigar box guitars. Be sure to check out our line of Open G GDG cigar box guitar string sets here!
We also have a video by Glenn Watt that shows you how to read and play this style of 3-string CBG tablature: click here to view it!
Click this link or the image below to view the printable PDF: Yellow Submarine by The Beatles Cigar Box Guitar Tablature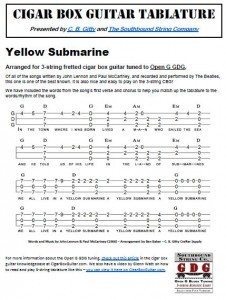 Here is the tablature for one of Hank Williams' most popular songs, Your Cheatin' Heart, as arranged and tabbed by Glenn Watt. This song was recorded by Hank himself and has been covered by a whole gaggle of other big-name performers, and it is a great one for yodeling out around the campfire.
Glenn has created two versions of the tab – the first one is just the basic melody lines, and the second adds some chord accompaniment.
You can view the printable PDFs by clicking on the images below. You can also watch the video below where Glenn shows you how to play the song on his 3-string cigar box guitar tuned to Open G "GDG".